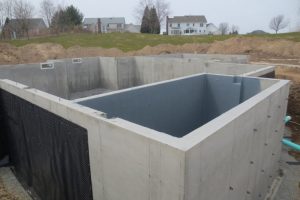 Poured Concrete Foundations
We give you double protecTION
Our poured concrete foundations are solid through and through. To ensure your basement stays dry, we have a waterproofing system that is applied to the exterior of the foundation walls:
* First, we spray the walls with a rubberized "Greywall" coating.
* Second, the entire basement is wrapped with Platon®.
Platon® is made from tough, durable, high-density polyethylene. This membrane provides superior moisture protection. It is a dimpled 24-mil. wrap that separates water from the foundation wall and permanently bridges foundation cracks, preventing moisture from entering the basement of a home.
We also install a continuous "Form-A-Drain". These drains form a complete sub-slab perimeter loop around the foundation Any and all groundwater is channeled into the crock for sump pump removal.